NEW THOUGHT INTERNATIONAL LIBRARY Presents
JUNE HIGHLIGHT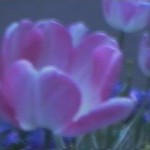 FREE E*BOOK COPY
ATTAINING DIVINE CONSCIOUSNESS
A COLLECTION OF THE INSPIRATIONAL TALKS & TEACHINGS OF REVEREND DR. LINDA DE COFF
VOLUME I ~ EXPANDING HORIZONS OF MIND!
JUNE 18 ~ MIDNIGHT (11:59 PM) JUNE 22, 2018
5 DAYS ONLY ON AMAZON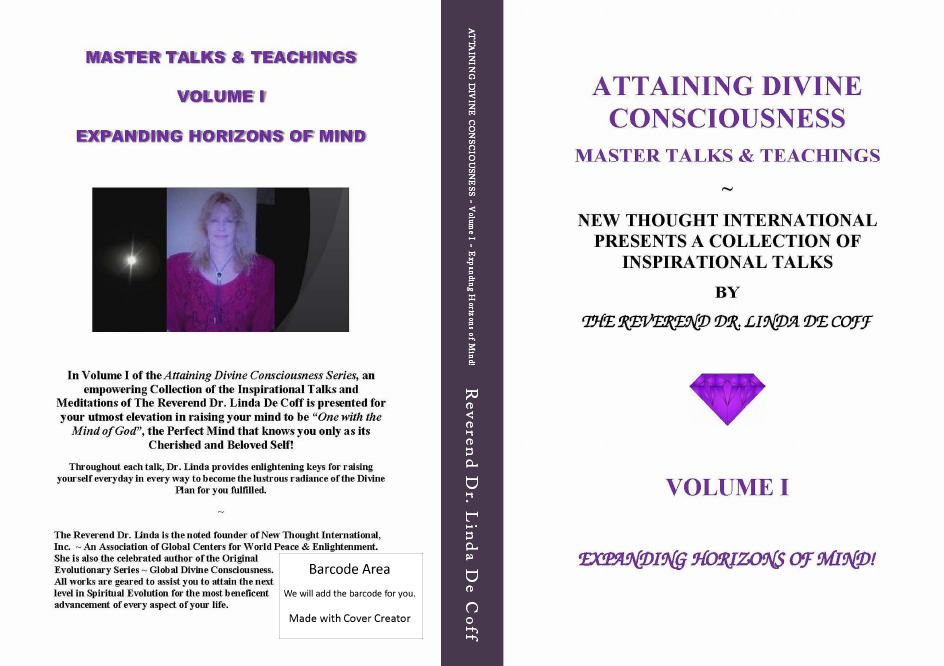 EXPANDING HORIZONS OF MIND  
Don't miss your special opportunity to read Volume I of this profoundly elevating series ~ Featuring a collection of the timeless inspirational Talks & Teachings of Reverend Dr. Linda De Coff for Free ~ 5 Days Only on Amazon:  June 18 – June 22nd (11:59 PM)  To go to Amazon,  Simply click right here.  For a listing of Titles included in Volume I , Free Preview and 5 Star Reviews, scroll down and see below.
~
The very first step to permanent change for the better in all conditions and in manifesting ultra new good in our lives is "Raising Consciousness" to the level of the Divine within, far transcendent of any experience of the past.  Discover the Great Unlimited Capacities of your  Divine and Sacred Self ~ the very core and essence, the vital power of your being.   
~  
In this series of Higher Consciousness talks, Dr. Linda offers ways to accomplish your most cherished goals, and how to align with the Highest and Best in you.
~
Throughout Volume I ~ Each offering includes an extensive talk on the Higher Consciousness Theme being considered, along with accompanying closing meditations, for incorporating deep within…providing easy reference for your daily centering, while working on a particular theme.
In this wonderful series, you will always find very easy, profound and practical tools for raising your consciousness to the level desired, always illuminating "how to tune in" to the completeness of the Divine-in-you.  When aligned with Limitless Truth, there will be nothing that cannot be achieved.  Join Your Mind with the Limitless Mind of God!
*For those who do take advantage of our offer and download this wonderful book, Thank-you In Advance for taking a moment to place your personal comments and/or reviews on Amazon after reading.  This will help so immeasurably to let others who may be interested know what they can expect to experience, and we do appreciate your thoughtfulness greatly.
THE FOLLOWING TITLES ARE INCLUDED IN VOLUME I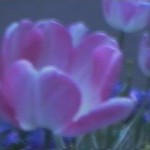 EXPANDING HORIZONS OF MIND!
NEW THOUGHT PATTERNS FOR THE AGE OF LIGHT!
ONE SOURCE ~ ONE BODY OF BEING! 
 PATHWAY OF EMANCIPATION!                              
YOU ARE MORE THAN MEETS THE EYE! 
THE ARCH OF GOD & THE DIVINE PLAN FOR ALL OF LIFE!
THE ASCENT OF SPIRIT!
THE RAISING OF MATTER ~ (Lifting All In Your Manifest World!)
THINKING THE THOUGHTS OF GOD! 
ROUTE 111 ~ HIGHWAY TO THE KINGDOM!
I AM ALPHA & OMEGA ~ FIRST CAUSE TO ALL!  
THE ARCHWAY OF INFINITE ABUNDANCE! 
THE MAJESTY OF LIGHT!
SOME 5 STAR REVIEWS

Top Amazon Customer Reviews
Jean ~ *****
April 1, 2018
Format: Kindle Edition|Verified Purchase
 ~
I have been looking forward to the publishing of Rev. Dr. Linda De Coff's new 4-set Volumes on raising consciousness. Her first volume, "Expanding Horizons of Mind," does not disappoint! "We are limitless," says the master teacher, and then proceeds to take us on a magnificent journey into the depths of Inner Space.
Dr. Linda teaches us very viable and practical methods of entering and uncovering our Divine Selves — and gently introduces us to the basics of Divine Principle, outlining a program par excellence for attaining our personal and professional goals and ridding ourselves of unwanted negativity through the study of the Divine Substance of Life.
Treading the labyrinth of expectancy, preparation, thanksgiving, forgiveness, presence, and much more, her Talks sustain our psyche, as well as employ immeasurable scenarios to enlighten our bogged-down brains~.
The lovely Dr. Linda seems to materialize herself out of the page, speaking directly to us, guiding us, asking questions, gently prodding. Each Talk is then followed by an apropos meditation feeding the hungry heart. I treasure this book and have it on Kindle where I can refer to it at any time. This Volume is a prize contribution to Dr. De Coff's Collection!
*VOLUME II ~
THE DIVINE MANIFESTING LAWS!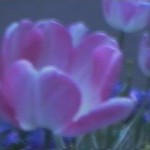 THE FOLLOWING TITLES ARE INCLUDED IN VOLUME II
"YOUR CONSCIOUSNESS IS ALL!"  
"THE GATEWAY TO PROSPERITY!"  
"PREPARING THE WAY FOR INCREASE!" 
"GOING DIRECT~ THE WAY OF THE MASTERS!"  
"THE DIVINE ALCHEMIST IN YOU!"  
"THE DIVINE FORMULA FOR FULFILLMENT!"  
"MIRACLES OF MANIFESTATION!"  
"SYNCHRONICITY AND SIMULTANEOUS BEING!"  
"SERENDIPITY ~ GOD'S GIFT OF UNEXPECTED INCREASE!"  
"SYNCHRONICITY ~ MIRACLE OF THE SIXTH SENSE!"  
"FREEDOM AT THE FIFTH LEVEL!"  
"GOD IS SOLUTION ORIENTED!"  
"THE HIGH OFFICE AND THE REGAL SPIRITUAL POWER OF GRATITUDE!"  
"VISION PLUS VELOCITY EQUALS VICTORY!"  
"THANKSGIVING ~ THE PRECURSOR TO MIRACLES!" 
"LIFE AT THE SUMMIT ~ LIVING BEYOND APPEARANCES!"  
"MAKING YOUR MASTER DEMONSTRATION!"  
"PERPETUATING YOUR GOOD!"
*Visit all of Dr. Linda's Books & CD's on Amazon.com Click here for CD's
Visit Dr. Linda's Complete Talk Library on I Tunes
*Tune in to hear Dr. Linda on the THE RICHARD DUGAN SHOW: Noted Host of "Tell Me Your Story" interviews Dr. Linda on the Evolution of Consciousness & Attaining Higher Levels of Being!: (1 Hr. & 25 Minutes). KZSB ~ AM 1290 Santa Barbara News-Press Radio, Santa Barbara, Ca.
ALL RICHEST BLESSINGS, As You Journey Into Highest Consciousness, Embracing The Limitless In You!
REVEREND DR. LINDA DE COFF
AND
NEW THOUGHT INTERNATIONAL, INC.