Dear Readers, Friends, and Visitors to our site ~ It is our great pleasure to announce that we are now able to offer direct download versions of two (2) of Dr. Linda's very special Books, along with accompanying live recorded meditations and contemplations,  directly through our LIBRARY at NEW THOUGHT INTERNATIONAL.COM.
*See titles, descriptions and prices below.

Discover how Divine Love is the key solution to every single issue that exists.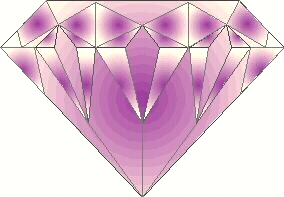 "Soon we shall discover that the temple of all humanity is nothing less than the Temple of  the Living God." ~ Excerpt, Chapter One/BRIDGE OF THE GODS ~ "The Awakening, Discovering the Bliss of your True Divine Reality!"
BRIDGE OF THE GODS , A Handbook for Ascending Humanity ~ The Golden Pathway to your Highest God Self!"/$9.99 (Download)
(On the next step in Spiritual Evolution for the most beneficent advancement of all Humanity, the 12 magnificent and awe-inspiring chapters take the reader on a dynamic soul-advancing journey all the way from the "Awakening" to "The Promised Land" (where long held desires are fulfilled through the timeless spiritual consciousness-raising techniques interspersed throughout)  Rich in mysticism with inspiring personal stories, practical techniques for implementation while reading, and soaring meditations at each chapter's end,

Bridge of the Gods

leads the reader to realize that there is nothing that cannot be healed by the glory of the Divine Self within.
Join Dr. Linda in raising your consciousness to Highest Levels of Being, where the substance of "All Good" just awaits your recognition.
"Just reading one chapter can lift one's vibration for an entire day!" ~ Deborah Beauvais, Owner/"The Love by Intuition Show"/Revolution Radio Boston.
(Visit https://revdrlindadecoff.com/?p=2658 to read more 5 star reviews, complete overall info, and 12 chapter descriptions.)
*To order your download for only

$9.99

, simply click below ~ visit our secure Paypal site!   As soon as your purchase is completed, we will send the download link to begin your "Journey into Highest Consciousness" ~
                                                                                                      *
————————————————————————————————
"SONGS OF ETERNITY ~ CONTEMPLATIONS, TREATMENTS AND MEDITATIONS ON THE WORD OF GOD!"

Dear All, It is our pleasure to announce that Dr. Linda's newly published book is now available for purchase,  directly from NEW THOUGHT INTERNATIONAL, INC.
A Treasure Trove for the Spirit, "SONGS OF ETERNITY" ~ Contemplations, Treatments, and Meditations on the Word of God" contains 52 timeless instructions, followed by meditations for incorporating the particular Sacred Principle involved. 
All inclusive of every subject from Divine Creation to Divine Manifestation to Divine Fulfillment, Prosperity, Immortality, Healing and Romance…you will find the glorious manifesting KEY for your success, in the Highest and most enduring Soul-Uplifting way!
PART I ~ THE PRINCIPLE, "DECLARATIONS OF THE IMMORTAL SOUL OF GOD!"
PART II ~ THE APPLICATION, "BRINGING HEAVEN TO EARTH!"
*To take advantage of this wonderful  offer and order your own personal e*book download copy of Dr. Linda's magnificent and uplifting book for only
$9.99

…visit our Pay Pal Secure site.  Be sure and include your

e*mail

address, and your download links will be provided right away!
'This is one of the mosr exquisite books I have ever read!' ~ ALICE CHURCH
*
_____________________________________________________________________________________________________
CONTEMPLATIONS I, II, III & IV
As a compliment to "SONGS OF ETERNITY", Dr. Linda has created a 4 part series of Contemplations, each comprised of 6 short contemplations and grounding meditations on a particular Higher Spiritual Consciousness Universal Principle and Theme.  These are recorded from live circumstances, and are most helpful for listening and deep times of meditation and focus, corresponding to many selections, found within the book, SONGS OF ETERNITY, PART  II, "The Application ~ Bringing Heaven to Earth!"
Below, please find a complete listing of CONTEMPLATIONS I, II, III, & IV Titles..

    TITLES OF CONTEMPLATIONS ~ Live Recordings w/Music of REVEREND DR. LINDA DE COFF                                        
CONTEMPLATIONS I ~
1.  God Never Compromises                  4.  The Seventh Plane of Supply
2.  Be Cause!                                             5.  The Power of Forgiveness
3.  The Essence of Demonstration       6.  Choose Ye this Day whom Ye Shall Serve
CONTEMPLATIONS II ~
1.  Giving Thanks in Advance!                 4.  The One Source of All Good
2   Spirit Goes Before Me                          5.  There is Nothing to Heal
3.  Exchanging Limits for the Sublime   6.  The River of Life
CONTEMPLATIONS III ~
1.  Choose the Miracle                           4.  Moving Beyond Cause and Effect
2.  The Road to Mastery                        5.  Living the Miracle Consciousness
3.  The Infinite Way                               6.  Turning Your Word to the One!
CONTEMPLATIONS iV ~
1.  Love's Eternal Vibration                      4.  Vision's Perfect Partner
2.  One with Universal Will & Purpose   5.  Choice Makes the Difference
3.  High Watch of Completeness              6.  Bringing All Up to Love's Level
Each Contemplations set of 6 talks is available for

$5.99 each,

  Or order your complete set of Contemplations I-IV ( "live recorded meditations w/music,24 titles total) for only

$20.00  
Visit our Catalog , and view other special offers!
All Richest Blessings ~ contemplating the Divine mysteries of the Universe,  dwelling on the Sublime and Immortal

Powers and Principles of Divine Love, and the glory of the all-capable Divine Self within!!!
REVEREND DR. LINDA DE COFF
Visit Dr. Linda's websites at:
https://revdrlindadecoff.com (to read free ongoing blog postings and articles on Higher Consciousness Themes)
Join Dr. Linda on her Facebook and Linked In Pages:
http://linkedin.com

(see Dr. Linda's pages here, and visit & join her Linked In Group, "The Next Step in Spiritual Advancement")

*Dr. Linda was honored to be selected as a finalist for the prestigious "Authors Show" 2012 annual publication,

"50 Great Writers you Should Be Reading" ~ in recognition of her outstanding work,

BRIDGE OF THE GODS, A Handbook….!
"A Masterwork in Metaphysics!" ~ Jeanne Latter 
Visit our catalog ~ for current downloads and special offers of the New Thought International Library, home of the complete works of Reverend Dr. Linda De Coff