DEAR READERS, LOVERS OF HIGHER SPIRITUAL CONSCIOUSNESS AND VISITORS TO OUR SITE ~
It is our pleasure to announce that in celebration of the

NEW YEAR

and opportunity to rise in consciousness and experience a new and vital platform of existence ~ from

January 21st thru 'til  Midnight, January 31, 2018 (EST)

~ you are invited to enter to win  a free e*book copy of Dr. Linda's glowing book, BRIDGE OF THE GODS, A Handbook for Ascending Humanity ~ The Golden Pathway to your Highest God Self!... on the next stage of spiritual evolution for the most beneficent advancement of all humanity and yourself.   Twelve (12) Winners will be awarded and notified on February 1, 2019.
Don't miss this opportunity to go on a remarkable inner journey with Dr. Linda, all the way from "The Awakening" to the "Promised Land" (where long-held desires are fulfilled in the Highest Way).
Start your

New Year

in the most empowering way ~ making all the wonderful changes and quantum leaps you want to make ~ that your life and circumstances may soar to new quantum levels of peace, abundance, accomplishment and joy.

Through soaring meditations, practical examples and profoundly joyous personal stories that will lift your soul to Highest realms of peace and bliss; Dr. Linda reveals enlightened ways and means to raise yourself every day and on every plane of existence from the pure plane of Spiritual Cause to the mental and emotional  to the physical, tangible levels…  Transforming all in  your outer world. Release chronic negative patterns forever, even as you read!  Replace all concerns with the wholeness, bliss, and transcendent glory of the Divine You!

TO ENTER ~
Simply advise us of your e*mail and interest to participate at

BridgeoftheGods@yahoo.com

  And, please include your full name and e*mail, so that notification details may be successfully sent to the winners.  Or, leave a message "Enter Me" below.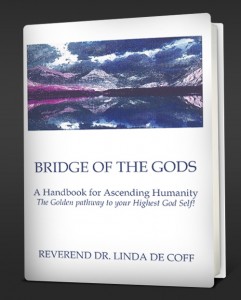 To Read a complete overview, including 12 chapter descriptions, a Preview of Chapter One ~ "The Awakening", and 5 star reviews: Visit BRIDGE OF THE GODS COMPLETE DESCRIPTION & PREVIEW
"You cannot be the same on the other side of these reads !" ~  Michael Ben Zehabe, Syndicated Columnist; Author/"Unanswered Questions in the Sunday News!"     
"I was captivated from page one!" ~ Barry Finlay, Award Winning Author/Kilimanjaro and Beyond! 
"Just reading one chapter can lift you for an entire day!" ~ Deborah Beauvais, Producer/Owner Dreamvisions 7 Radio, airing on NBC Radio Boston
Visit all of Dr. Linda's Books & CD's on Amazon.com
HAPPIEST NEW YEAR ~ Discovering the Bliss and Unlimited Capacity of the Divine in You!
Blessings Immeasurable & Profound ~
REVEREND DR. LINDA DE COFF
AND
NEW THOUGHT INTERNATIONAL ~ An Association of Global Centers for World Peace & Enlightenment