DEAR READER & LOVERS OF SPIRITUAL BOOKS ~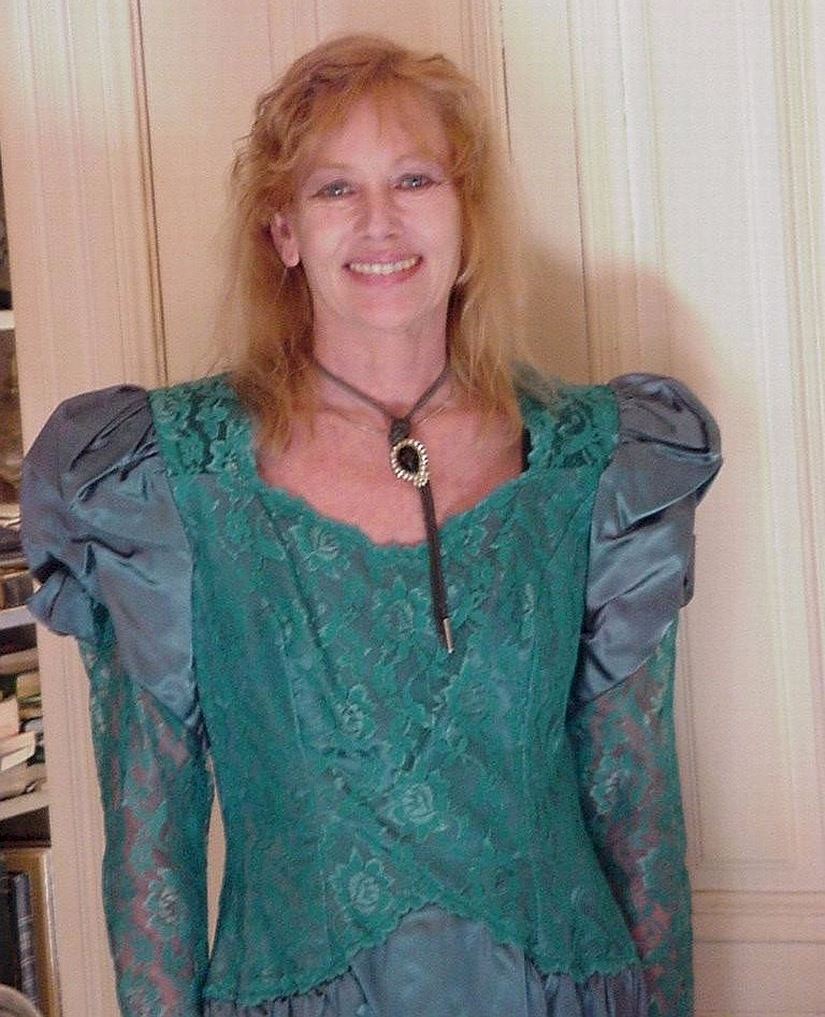 We are delighted to present an opportunity for you to review any of Dr. Linda's Books on ATTAINING DIVINE CONSCIOUSNESS.  Below, you will find a listing of the 10 books comprising this magnificent evolutionary series, along with some reviews of each, and links to look at Full Chapter Descriptions and Previews.
~
If you would like to read and submit your own review of any of these Divine Books listed below, simply e*mail Dr. Linda at revdecoff@aol.com of your interest, and a digital review copy will be supplied.
Alternatively, simply leave a message at the end of this post.
In all Truth, Love & Light ~
NEW THOUGHT INTERNATIONAL LIBRARY
~
ATTAINING DIVINE CONSCIOUSNESS ~ VOLUMES I, II & III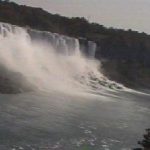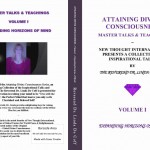 Volume I ~ Expanding Horizons of Mind!:  A Collection of Inspirational Talks & Teachings of Reverend Dr. Linda De Coff.   
Click Here for Complete Description and Free Preview
*****A Review By Barry Finlay on Goodreads ~ 5 Stars ~ Award Winning Author/Kilimanjaro & Beyond!
"Attaining Divine Consciousness – Volume 1 – Expanding Horizons of Mind" is the first in a new series of books by Reverend Dr. Linda De Coff designed to help us find the best in ourselves.
This volume is an amazing starting point. Each chapter is an extensive discussion of the subject at hand. Linda writes with such profound understanding of each subject that one cannot help but be absorbed into the message.  The language is eloquent, moving us to action, and each section is followed immediately by a meditation which allows us to promptly follow through on the lessons learned.
Some of the messages will resonate more than others with people and it will be different for each of us. One that resonated with me is, "…never, not ever, are we subject to negativity, save by our own fears." Another is, "empty yourself out of all attachments, distractions, opinions, judgments, and ideas about things, becoming, thus, an empty vessel through which, now, the life of God and Truth and Highest Consciousness may stream anew." I'm convinced that everyone will find something in Reverend De Coff's writings that will resonate with them.
Personal anecdotes help to illustrate and amplify the message for the reader. One particularly fascinating anecdote involves driving up a mountain in Hell's Canyon at the Continental Divide. In spite of her intense discomfort while following the narrow winding road, the author came to the conclusion that one cannot achieve the fullness of themselves if overcome with fear. The story illustrates the point of the lesson perfectly."
Attaining Divine Consciousness is a wonderful book recommended for everyone. After having read the book and completing the meditations, you will be able to, in Reverend De Coff's words, "…set your sights High."
5.0 out of 5 stars Literature par excellence for Obtaining our Personal and Professional Goals
Format: Paperback Verified Purchase
I have been looking forward to the publishing of Rev. Dr. Linda De Coff's new 3-set Volumes on raising consciousness. Her first volume, "Expanding Horizons of Mind," does not disappoint! "We are limitless," says the master teacher, and then proceeds to take us on a magnificent journey into the depths of Inner Space.
Dr. Linda teaches us very viable and practical methods of entering and uncovering our Divine Selves — and gently introduces us to the basics of Divine Principle, outlining a program par excellence for attaining our personal and professional goals and ridding ourselves of unwanted negativity through the study of the Divine Substance of Life. Treading the labyrinth of expectancy, preparation, thanksgiving, forgiveness, presence, and much more, her Talks sustain our psyche, as well as employ immeasurable scenarios to enlighten our bogged-down brains~.
The lovely Dr. Linda seems to materialize herself out of the page, speaking directly to us, guiding us, asking questions, gently prodding. Each Talk is then followed by an apropos meditation feeding the hungry heart. I treasure this book and have it on Kindle where I can refer to it at any time. This Volume is a prize contribution to Dr. De Coff's Collection!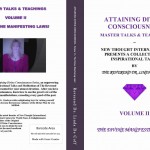 VOLUME II ~ The Divine Manifesting Laws!: A Collection of Inspirational Talks & Teachings of Reverend Dr. Linda De Coff.
Click Here for Complete Description and Free Preview
(See Reviews Below)
Customer Review
5.0 out of 5 stars Find Realms of Discovery and Grace You Never Thought Possible!
After reading the much-awaited Volume II of the prolific Dr. Linda De Coff's "Attaining Divine Consciousness" – a masterwork of creative manifestation on how to achieve your Perfect Good – I am compelled to return to the foundational jewels of Volume 1. One dovetails into the other, and I feel I want to reinforce the original Principles…
These two volumes (not to mention the author's entire body of work) can occupy a lifetime of study. Each profound chapter is accompanied by a centering meditation which is truly inspirational and powerful. Dr. Linda takes you note by note, achieving a melodious symphony of various levels, planes and spirals of consciousness. The metaphysical study itself raises your awareness until you are living the New You suffused in Realization and Love.
With attentiveness to every detail, Dr. Linda informs your Soul. She embarks on a mission, leading you to realms of discovery and grace which you never thought possible, all the while based in methodology easily understandable and applied. Kudos to the good Doctor! As a student of philosophy and spirituality, this read is moving and fascinating, one not to be missed!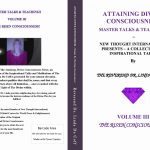 VOLUME III ~ The Risen Consciousness!:  A Collection of Inspirational Talks & Teachings of Reverend Dr. Linda De Coff
Click Here for Complete Description and Free Preview
*This latest Volume has just received its 1st 2 Reviews. We welcome your reviews of Dr. Linda's newest work.
A TRUE CLASSICAL SPIRITUAL TREASURE***** Transporting. Altered Reality. Surfacing a vast Spiral that slowly, gently, sometimes suddenly, pulls you to The Deep — to float, to ponder, to imagine, to open, to BE, if we but submit to the sacred space. Mind-altering… Life changing … Grace-filled.
The incomparable Rev. Dr. Linda De Coff's new illuminating Volume III of her GLOBAL DIVINE CONSCIOUSNESS SERIES and Attaining Divine Consciousness, entitled The Risen Consciousness, is a masterwork for the ages. Simple and unutterably profound.
If the first few chapters do not make you weep, possibly you aren't human! To open the Table of Contents is to walk a labyrinthian "magical mystery tour" — if mind could see, or ears hear . . . This compendium of work treats of Attaining Divine Consciousness and Volume III is filled with Master Talks & teachings, which contains many themes with soul-inspiring closing meditations — jewels to be delighted in and savored as they crystallize form. On each page, passageways of joy and beauty beckon and lure the mind to an enchanting universe, one formed in Divine Mind, incomparable in perfection.
To wit, the opening chapter is titled, "The Jewel in the Crown." It speaks of contemplating the measure of our Being, who we are, treats of negating duality and conflict since there is only One Source and it is not divided. Rev. Dr. Linda De Coff teaches synthesizing and harmonizing, how not to get caught up in maya, but see your vision through a Centered Self. We learn to elevate chakra by chakra into alignment with our Perfect Selves.
Through meditation, we search and glean Truth, the Jewel in the Crown, and our truth. We strive to incorporate higher and higher levels; alchemize our negative thoughts and behaviors to become Principle and the Ground of our Being, break through our limitations, ego and patterns into a new Realized Self.
Rev. Linda suggests contacting our Divine Self throughout the day in every activity to stay mindful of All That Is and using meditation and treatment to manifest our best selves. And after each fiery, rhapsodic, and life-changing chapter in this momentous Volume III are meditations to assist us in the transformative work of raising us to the level of Truth and Divine Reality.
In the next chapter, "Return of the Cosmic Christ," my favorite, Dr. Rev. DeCoff uses the analogy of the modern laser as metaphor and tool in our work of bringing Divine Light to the world and all that we wish to heal. Chapter after chapter — "Sacred Seals of God," "Gifts of the Illumined," "Ark of the Covenant & The Golden Chalice of Peace," in which Dr. Linda expands on our role in the healing of the world's peoples and activities — all profound poetic words filled with the wisdom of the ages…
Find yourself a sacred space and be enlightened!
GLOBAL DIVINE CONSCIOUSNESS 7 VOLUME SERIES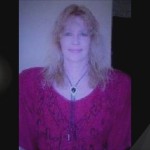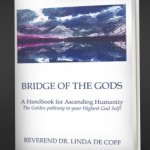 BRIDGE OF THE GODS, A Handbook for Ascending Humanity:  The Golden Pathway to Your Highest God Self!
Click Here for Complete Description and Free Preview
(See Reviews Below)
MIDWEST BOOK REVIEWS   
Wisconsin Bookwatch ~ Volume 7, Number 6
The Religion/Spirituality Shelf
BRIDGE OF THE GODS
Dr. Linda De Coff

*****Building a more perfect self is the pursuit of self-improvement. "Bridge of the Gods: A Handbook for Ascending Humanity" is an inspirational work from Reverend Dr. Linda De Coff, advises becoming in touch with your inner God and embracing a more complete life on many levels, pushing one to personal Godliness and granting one's own rightful heavenly domain. "Bridge of the Gods" is a powerful read for followers of new age spirituality, much recommended.
DEBORAH BEAUVAIS, HOST/DREAMVISIONS7RADIO/THE LOVE BY INTUITION SHOW/NBC RADIO BOSTON ~ 
5 Stars
ON BRIDGE OF THE GODS
Reverend Dr. Linda De Coff's book, Bridge of the Gods is definitely a journey to The Higher realms of God Consciousness. One can literally feel the glow of Light within as one absorbs each chapter.
As she writes and teaches the reader, Dr. Linda's choice of words dance right into one's heart. For example, these two phrases are so profound: 'All in the All~-the Limitless Spirit of Creation' or Divine Guest~ the Holy Breath and Spirit of all Omniscience into your Heavenly Mansion'. Rev. Dr. Linda describes how one can release control, not to seek approval and to let the past go with such distinction and through her glorious inspirational meditations one experiences that beautiful release.
Prior to reading the Bridge of the Gods, the words limitation and freedom were all around me. There is no co-incidence that Bridge of the Gods found me. Every person needs to read Bridge of the Gods ~ A Handbook for Ascending Humanity because it is exactly that, A Handbook. Once read in its entirety one finds just re-reading a chapter can raise one's vibration for the entire day.
5.0 out of 5 stars There are not enough stars to adequately rate this great book
It has been said that when the student is ready the master appears. The writer came into my life the very moment my physical and emotional needs were so overwhelming that even though I had read many uplifting books about the inherent divinity of every human being, I was still questioning if life is supposed to be a life of trouble, limitation and constant anxiousness. I was searching for something more real and simple, something with deep thoughts but easy for me to grasp and apply in my everyday life, and possibly even be able to rise far beyond my greatest expectations thus far.
I came across the Bridge of the Gods manuscripts long before its present form. Going thru the twelve steps with ease I now have a clear understanding that I am a human being with unlimited possibilities, created to have all that is good in every respect and aspect in my life. Then, the bridge is no longer merely a structure that we just cross when we come to it, but becomes a superstructure that we now cross due to our greater risen state of consciousness ~ the" Bridge of the Gods", as Gods.
This is truly a great book. I am so glad it is now out for everyone to be able to have! There are not enough stars to adequately rate this book!
*****A PERFECT TITLE FOR A WONDERFUL BOOK! ~ 5 STARS ~ A Goodreads Review
Bridge of the Gods!  What a perfect title for a wonderful book.  I was captivated by this book by Reverend Dr. Linda De Coff from page 1. It is the power of positive thinking meeting spirituality. And there is something in it for everyone, no matter what their particular beliefs are.
From the Awakening in Chapter One where Rev. De Coff asks, "For, do we really have limits?" to the final chapter when we step onto the Bridge of the Gods to leave the past behind and start afresh, we're on a journey to examine our personal lives and make changes for the better. It's a spiritual evolution to be sure and it's a wonderful journey.
There were occasions when I found myself having to concentrate deeply to fully understand the message. But those moments were quickly clarified by the author's personal anecdotes.  The anecdotes are charming, witty and easy for us to relate to. They help us significantly along our journey to a better place and make the book thoroughly enjoyable to read.  In Rev. De Coff's words in Chapter Four, "…a confused person cannot fix anything, as we all know."  The author ensures we are not confused as we make our way along the path to enlightenment.
Another thing that I believe sets Bridge of the Gods apart from books of a similar nature is the exercise in each chapter to help further our understanding.  My own experience with the exercises was that it clarified issues in my mind. I think everyone would be able to do the same in their own personal way.
Rev. De Coff is a beautiful writer. Her words paint a picture in the mind's eye and it is a picture with an aura around it. She truly has a gift.  Because of the content, the nature and beauty of the writing and the concepts that it has to offer, Bridge of the Gods is not a book to be read quickly. It is one to be absorbed, to be reflected upon and most of all, to be enjoyed. It's also one to be read over and over.
I can easily recommend Bridge of the Gods. The reader will get out of it what they allow themselves to, but for many it will be a source of inspiration and self analysis. And if the reader gives it a chance, they just might find themselves crossing the Bridge of the Gods.
Customer Review
5.0 out of 5 stars A Master Work on Metaphysics!
Format: Paperback Verified Purchase
Dr. Linda De Coff has written a true visionary master work on our spiritual birthright. Easy to read, the reader/initiate is brought from our present-day cultural currents to the end of Volume II where he/she crosses the Bridge of the Gods into the Promised Land, glimpsing a vision of the New Millennium of ascended consciousness. With wonder and illumination, Dr. De Coff introduces a celestial city where one day humankind might live out its full potential. With each page, the heart beats a bit faster, the mind reaches for clarity, the will aspires to loftier heights.
With clarity, grace, humor, and tremendous insight, our individual and collective evolution unfolds. Step by step we are instructed… given a system of tools to look inward — and gently, lovingly make the required changes.
Dr. De Coff, a true mystic, guides us unerringly to live in an exacting question and through meditations and challenges to pull ourselves up by our own bootstraps. She guides us on the Sacred Path by posing questions which trigger new answers; creatively we discover our issues, pass through our cultural conditionings and through profound revelations of our own mixed intentions, move by leaps and bounds into new awareness.
This is a book to savor slowly, to work with, to read and re-read, gleaning the golden principles of master metaphysics. Let us begin here and now to walk the walk, talk the talk, and assist the planet in its spiritual transition to a new age. There is no better way to begin, I believe, than with Dr. Linda De Coff's masterful, mystical, empowering Handbook!
5.0 out of 5 stars A Spiritual Spectrum
Linda's wee book 'Bridge of the Gods' is worthy of the detailed attention of a wide readership. Many Spiritual authors tend to plug into one tradition and pound away at it. Linda on the other hand skips through the meadows of a wide and inclusive spirituality drawing folk from various religious or psycho-spiritual backgrounds into her Dance of Consciousness.
If an ex-Northern Irish Presbyterian like me can enjoy the writer's ecumenical take on things then anyone can. I can thoroughly recommend this inspirational book to all on the Journey into Divine Love.
*****WORTH ITS WEIGHT IN GOLD! Authors Den Review ~  Bridge of the Gods ~ (Paperback)
This Handbook is a great addition to the world's philosophical and spiritual literature. It stands with the greats and I, for one, found it not only enlightening, touching upon the nature of reality, but of great assistance in giving the readership some "tools of the trade." By positing perceptive and profound questions throughout the book, we are urged to delve further into our Higher Mind and clear our past, humanely clearing a path to enlightenment. We're also given many meaningful meditation in certain areas of human frailty, which lifts us up and out into Clarity. This among many other reasons makes this book worth its weight in gold.
It is the alchemist's key to pondering our Soul – and as we read, releases a certain Cosmic Energy, which translates into bigger and better living. With Dr. De Coff's healing inspiration, we're able to make a quantum leap! The author is a seer and speaks of a future world of Peace. Her book tells us how to get there…
5.0 out of 5 stars Guide posts to spiritual peace
Format: Paperback Verified Purchase
As I near retirement, a friend recommended this book as a pathway to increased spiritually. My goal in retirement is to deeply explore spirituality in this next phase of my life. I relate to the Buddhist philosophy that we create our own suffering by being judgmental. Rev. DeCoff's exhortation to "Let go" makes so much sense to me. Our human minds do not have all the answers, and, as she states: "Why would I bother to go to the limited dictionary of my past experiences, when I have everything at my command…all perfect leads to right action." This book provides excellent guidance about how to move toward the Divine Connection, from our mind to One Mind ("whatever God is, I am"). I highly recommend this book to those who want to break free of their limiting tendencies and find peace and happiness.
Amazon Customer    
5.0 out of 5 stars Consciousness Expander!!
Format: Paperback Verified Purchase
Rev. Dr. Linda's book, Bridge of the Gods, is a beautifully written guide for ascending in consciousness.
She writes with eloquence and clarity – – always uplifting the reader to higher realms. I am most grateful for her work, for I know it blesses and uplifts our entire planet.
5.0 out of 5 stars Bridge of the Gods
Format: Paperback Verified Purchase
This book is an empowerment to your life. It is a celebration of our own Divinity and explores unlimited possibilities in living a full life and letting go of the past that has pained us… Setting ourselves free.
Dr. Linda De Coff has written an uplifting, inspirational book that is practical and has wonderful meditations and exercises to do to grow and live with love and joy. This book is a great gift to oneself and to friends. Dr. De Coff is a great consciousness and she shares it beautifully with her reader.
Format: PaperbackVerified Purchase
Reverend Dr. Linda De Coff has written an excellent book about stretching the self to greater horizons. I especially liked the exercises and meditations. The perfect book to help you realize your full potential.
Format: Paperback Verified Purchase
After reading some of the sample pages of Rev. De Coff's new book, Bridge of the Gods — a Handbook, and reading the reviews, I decided to order. I thoroughly enjoyed the personal stories and found them so inspirational — and the spiritual lists and exercises I think will be of great benefit in a grand new round of soul searching as we enter the 21st century. So much is changing and our need to look forward, especially for our children and grandchildren, is an important endeavor we seniors should undertake!
5.0 out of 5 stars A must read for the metaphysical reader!
I have had this book for so long, and it is one of my favorites to teach from.  Dr. Linda's consciousness is of the very highest, and I enjoy the lessons that she teaches in Bridge of the Gods. A must read!
Wow! What a book! I enjoyed the setting of goals at the beginning of each chapter. Very inspiring. Takes the reader on a journey to be open and discover there is limitless potential. After reading, I feel ready to let go of my past and acknowledge all that I am and re-discover the Light of our Divine Origins.
An incredible and inspiring book!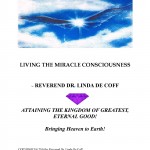 LIVING THE MIRACLE CONSCIOUSNESS ~ Attaining The Kingdom of Greatest Eternal Good! ~  Heaven On Earth!
Click Here for Complete Description and Free Preview
(See Reviews Below)
5.0 out of 5 stars A must-read…
Format: Kindle Edition Verified Purchase
Beautifully Written. I absolutely love the author's way with words. This book emphasizes to discover your Divine Self and expect miracles to happen. The author advises to backup aspirations with affirmations of the Divine. I really liked the different exercises and quotes contained in this book. The major influence on me was the concept of duality i.e. that we don't need to choose one aspiration over the other. We don't need to give-up anything as everything is in a perfect harmony. I highly recommend this book to anyone who seeks a fulfilled life.
5.0 out of 5 stars Loved this book!
Format: Paperback
I loved this book! A sweet simple reminder that we all have the Miracle Consciousness. Dr. Linda gives us meditations and gives us ways to lift our consciousness to a higher level so that we can live above the "world appearances" and watch how deeply we are taken care of in all ways. She reminds us in this book that the Father and I are One and will always be that alone.
We are not separate from miracles, we just need to be calm and in the KNOWING that this is true. Truly, Dr. Linda is the Religious Science leader that we as other ministers look up to. I'm thankful for all of Dr. Linda's books, and this one is exceptionally clear in reminding us all that we do have the miracle consciousness!
***** "Clear, Concise, Enlightened and Deeply Provoking!" ~ A Goodreads Review On LIVING THE MIRACLE CONSCIOUSNESS!

Undoubtedly, this a master work of the first order by Reverend Dr. Linda DeCoff…with vital information to help one to completely and permanently overcome familiar limitations.
I've had the privilege of working with the good Doctor, hearing her lectures and participating in her profound workshops, always a boon to the Spiritual Journey, no matter where you are on the Path.
Dr. Linda is a vessel for the Wisdom of the Ages and blesses us all with her high standard of teaching.
Her work is clear, concise, enlightened and deeply provoking. One's being will shine brighter after mastering the concepts ~ may Radiant Light pervade our Universe!
The awesome meditations at various points within this book are so helpful to realize how much good can be ours, when we center in the wholeness of the Divine Self, the living essence and power of every being.
When we center and call forth the Divine Principle, our Spirits are reinvigorated; we cleanse our hearts, minds, bodies of the obstructions so common to humanity's environment and bring in manifestations of peace, bounty, love."
"This profound work should be a part of the World's Library of greatest philosophical and spiritual books!"
*****A REVIEW BY PROMOD KUMAR SHARMA ~ Author/"Mahatma (Gandhi) ~ A Scientist of the Intuitively Obvious"
On Living the Miracle Consciousness ~
The expression "ASCENDING HUMANITY" used by Rev. Dr. Linda De Coff in context of her book "Living the Miracle Consciousness~ Attaining the Kingdom of Greatest Eternal Good" has descended deep into my heart. We say we descend on this earth with our spiritual experience. We even say that the God descends on the earth as an Avatar to empower humanity. Rev. Dr. De Coff spiritualizes the human experience of doing the greatest good. I found that the frequency of my book "Mahatma: A Scientist of the Intuitively Obvious" perfectly matched with her book.
Whether it be enlightenment or realization of the ultimate truth (one may call it the God) or maybe the Emancipation (according to the ancient Indian philosophy) the path one has to tread is the path of the humanity, and when two natural, I repeat 'natural' frequencies match perfectly the energy generated melts the 'Advait' (duality).
I also believe in it and in whatever I write, I say it again and again, without fail. I also talk about the Divine laws and insist on conformity of our thoughts, deeds and words with those laws. All this is for the universal good, about which we know little but the Supreme Power knows everything what is to be known thereabout.
For me, we human beings have to develop a faith and have to empower it with our conduct.
For Dr. Linda De Coff the faith exists in all of us, as naturally as the existence of the Divine blessings for the good of the all.
She speaks of 'Ascending Humanity', an elevating experience for all. It is not an ordinary thought. It is an encouragement we all crave for. I am grateful to her.
**** A  5 Star Review on Goodreads ~ "You Will Be Richer for Having Read!"
Living the Miracle Consciousness is the second of Dr. Linda De Coff's books that I have had the good fortune to read. This is a book about having faith and thinking positively. It's about how we cannot be bound by conditions unless we choose to accept them, about taking responsibility for our own miracles and about recognizing the changes we might have to make so that our miracles will happen.
But that's an oversimplification because Reverend Linda has such a wonderful way with words. The book is full of precious gems of advice for living our lives expressed in a beautiful and dynamic way that is sure to enthrall the reader. There is even a section on how we should react to compliments, which many of us don't seem to do very well.
What I like most about this author's books are the practical examples and exercises sprinkled throughout. A subject is discussed in depth and it is immediately followed by a simple example from her personal experience to which we can easily relate. The exercises give us a chance to reflect on what we have learned and apply the lesson to our own daily lives. The combination of examples and exercises add practicality to the theories and bring them to life.
You will be richer for having read this book and realize that with faith and the right mindset, miracles can and do happen.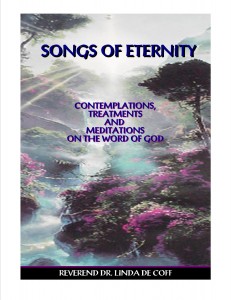 SONGS OF ETERNITY ~ Contemplations, Treatments And Meditations on the Word of God!
~
Click Here for Complete Description and Free Preview

(See Reviews Below)
*****Review of Songs by Michael Ben Zehabe/Journalist, Syndicated Columnist/ Author/Unanswered Questions in the Sunday News
http://www.authorsden.com/visit/viewwork.asp?id=59977
Reverend Dr. Linda De Coff is a new discovery for me. I have high praises for her book, Songs of Eternity.
Dr. De Coff is a spiritual powerhouse of growth and discovery. A real treat for the curious (in the matters of the heart) and the adventurous (in the matters of the spirit). Simply put, you cannot be the same person on the other side of this read.
Dr. De Coff begins your journey of transcendence with a starting point (God); an impetus (knowing); and a destination (transcendence). Since she has put such organization into your journey, you begin your first page with confidence.
You can bring what is above into your life below. Her process is pleasant and simple: just let her share beautiful stories and you will be gently transported (in baby steps) from point A to point B. By the end of the book, you have created a (Natural? Habitual? Neural? Spiritual? Evolutional?) path to that wonderful beyond. Then, you will never view your small life from the same perspective.
Prior to reading Dr. De Coff's book, I was not familiar with her work. I recommend a quick examination through a google search. Just plug in: Reverend Dr. Linda De Coff and you will quickly discover a woman who has effected the world in ways beyond that of an author. Her wisdom comes from being fully engaged in a rich, exciting life. Here is a natural leader with something to share.
*****MARIE ~ SONGS OF ETERNITY Review on Authors Den
This second masterful treatise by Rev. Linda DeCoff is a unique outline of the Principles of Metaphysics, with an Explanation and profound Meditation on same, in the form of an Eternal Song of the soul.
I found this book utterly inspirational and devotional.
Not to give short shrift to the profound thoughts set forth ~ of an evening, one can peruse the table of contents, choose a topic and be uplifted to Realms of Reality, stretching the mind, and grounding the Self in its very essence.
This book should certainly be on every nightstand and I look forward to the Body of Work to be produced by this erudite author!
AMAZON CUSTOMER
5.0 out of 5 stars Profound Planetary Prayers
Format: Kindle EditionVerified Purchase
"Songs of Eternity," a new book of contemplation by Linda De Coff, is comprised of profound planetary prayers, or songs, of immortal truths sung by the great masters over the ages — and we'd not be remiss to add Rev. De Coff's name to that eminent list! Her magnificent book of poetry and joy sings with spiritual truths embodied in historical esoteric writings, and the author has distilled the very heart of the matter for us. Yes, these Songs are heartfelt, exuberant cries and supplications to our Higher Selves. The book is also a summary and distillation of expanding consciousness, empowerment, and awareness.
"Songs of Eternity" is divided into two parts, and the chapter headings make it easy to find any subject matter you wish to treat. The second part pays homage to a former teacher and Rev. De Coff writes eloquently in explicating the nature of cosmic energy, patterns, quantum leaps, perfect alignments, and the divine nature of our humanity. The last chapter speaks of the earth's harmonic convergence and soars to the heavens in rapturous joy with intimations of world Peace and Perfection.
The book is all encompassing and will serve not only as a basic guide, but thrill the heart with the most exquisite poetry and meditations on ultimate truth.  And also at the back of the book, the author has put forth audio readings of some of the same subject matter. I, for one, already have these and find them the perfect way to end the day and prepare for a night of Sound Rest and Beautiful Dreams!
5.0 out of 5 stars Excellent and uplifting
Format: Kindle Edition Verified Purchase
This book is very uplifting and inspiring – -I like to read it whenever I need a spiritual lift.
5.0 out of 5 stars Greatly recommended!
A wonderful book of poetry and song to lighten the soul. After reading, I always feel uplifted and have a feeling of living in the moment. A wonderful way to reflect and feel a higher power.
Very inspiring meditations. A must have book for those seeking greater spirituality through positive thoughts. I love the digital format; makes it very simple to read and favorite passages are just a click away.
*****"A Treasure To Be Perused Over and Over Again!" Authors Den Review: Songs of Eternity!
Rev. Linda De Coff's new healing and inspirational book, SONGS OF ETERNITY, is a glowing tribute to Highest Spiritual Awareness, evoking the Divine Essence and Presence in us all. Through pure declarations of the heart to Universal Presence and our Highest Selves, Dr. Linda lead us to realms of Reality with abundant joy. Truly the words touch the deepest fibers of our being and our hearts soar as we experience just a taste of Ultimate Reality in some of the most beautiful, spiritual, heartfelt poetry I've ever read.
These profound contemplations touch on every aspect of life and human endeavor and are a treasure to be perused over and over again. In great appreciation, I salute a great master of Principal and Truth, Rev. Linda DeCoff, and look forward to this teacher's many books to come in the years ahead!
AMAZON CUSTOMER
5.0 out of 5 stars worth every penny
This author is a great thinker, with an expansive mind that has great clarity. This is a must addition to your life.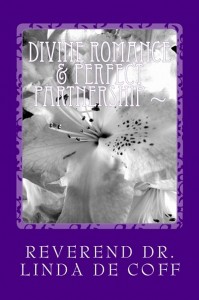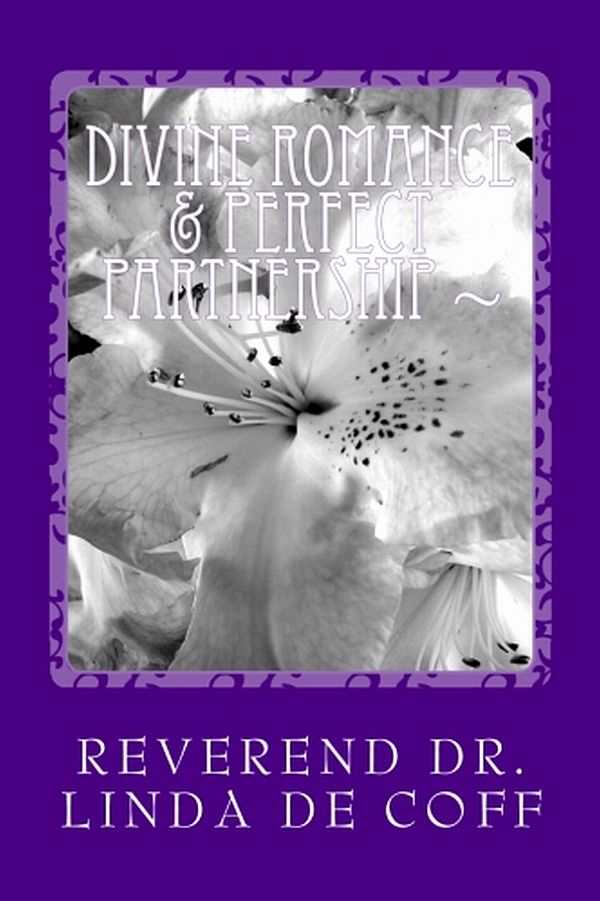 DIVINE ROMANCE & PERFECT PARTNERSHIP ~ The Immortal Principles and Powers of Divine Love!
~
Click Here for Complete Description and Free Preview

(See Reviews Below)
5.0 out of 5 stars The beautifully written Divine Romance & Perfect Partnership by author Reverend …
Format: Paperback
Do we have more than one Soul Mate? Are Souls threaded together? The beautifully written Divine Romance & Perfect Partnership by author Reverend Dr. Linda De Coff answers these questions and more. Humanity yearns for love. The path to a rich lasting relationship is learning to love oneself.
As Dr. Linda shares, loving the self attracts a deeper kind of love, which resonates with another soul on the same level. When the two souls come together it makes for an exciting relationship into the journey of evolution. Which do we choose, a frivolous relationship or one based in benevolent love?
MIDWEST BOOK REVIEWS
Midwest Book Review/SmallPress Bookwatch
The Relationship Shelf
*****Divine Romance & Perfect Partnership

Synopsis: "Divine Romance & Perfect Partnership: The Immortal Principles and Powers of Divine Love!" is a the latest volume of the Reverend Linda De Coff's outstanding 'Global Divine Consciousness' series. Revealing 'Truths of Infinite Majesty' Divine Romance & Perfect Partnership" has as its focus the incomparable powers and joys of what Dr. Linda calls Divine Romance & Perfect Partnership. Dr. Linda offers enlightening keys on how to prepare for, recognize and attract your perfect eternal mate – and how to sustain your relationship forever. Whether as an individual or as a couple, readers of "Divine Romance & Perfect Partnership" will learn not only how to constantly renew relationships spanning the wide circumference of life, but to lift all in themselves and others to the highest level, and experience greater fulfillment, bliss and attainment than ever before.
Critique: ***** Inspired and inspiring, "Divine Romance & Perfect Partnership: The Immortal Principles and Powers of Divine Love!" is very highly recommended reading, especially for those seeking to create, maintain, and enjoy relationships that will last a lifetime — and beyond! It should be noted for personal reading lists that "Divine Romance & Perfect Partnership" is also available in a Kindle edition ($9.99).
AMAZON CUSTOMER
5.0 out of 5 stars Linda De Coff is a great mind and she shares her wisdom with us
Format: Paperback
This is a work by a master of wisdom and the divine principles of the universe. Rev. Dr. Linda De Coff is a great mind and she shares her wisdom with us. A must read!
REVOLUTIONARY ROMANCE! " ***** A  REVIEW BY J.L/Producer/Director/Writer/Stage & Screen
"Divine Romance & Perfect Partnership ~The Immortal Principles and Powers of Divine Love," the next installment in Reverend Dr. Linda De Coff's fabulous Global Divine Consciousness Series, proves once and for all Love is not an accident or a privilege, but the destiny of each and every one of us!
This book is a master work of wisdom and understanding. Dr. Linda has helped us immensely in clearing the way for a Perfect Partner . By internalizing Dr. Linda's ideas and approach, we can realize our dreams~ not only in partnership, but all other areas of life: the perfect home, perfect job, perfect life's work.
The principles are simple, but results are revolutionary!
We are motivated on our personal path of integrity and success ~ to change our lives in numerous ways. Reading her book fosters illumination; it's a blueprint and guide, with exercises, to assist you in reaching your Life's Goals. Love unconditionally and ultimately achieve all you hold in mind. 
The author speaks sublime truth when she says the closer we get to ourselves, the closer we get to our true love. And of course this realignment of our conscience takes place within, something that we have control over.
If we do the work and keep centered, Dr. Linda assures us that Principle will majestically bear fruit. It is the Law of the Universe.
This tract adds immeasurably to Dr. Linda's great body of work and I highly recommend to all. It's a pathfinder to get where we're going, to have more of what we want. . . to transform the blahs into a luminous Reality! ~ J.L., Producer/Director/Writer/Stage & Screen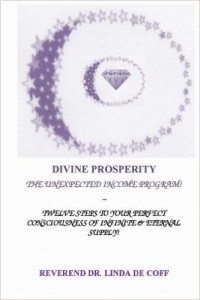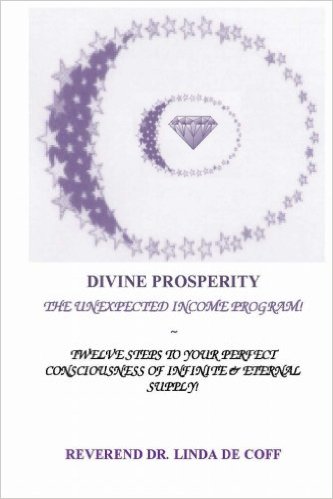 DIVINE PROSPERITY ~ 12 Steps To Your Perfect Consciousness Of Infinite & Eternal Supply!
~
Click Here for Complete Description and Free Preview
~
(See Reviews Below)
*****DIVINE PROSPERITY ~ Invaluable, Keep Close By! ~ A Goodreads Review
Author Reverend Linda De Coff states at the beginning of the book, "If you are about to go into enormous change, or have just created enormous change, or are very much seeking to manifest an upgrade, over the past period of experience, this book is for you." She couldn't have described the book any better.
Divine Prosperity is comprised of twelve stages, each of which builds on the previous stage or stages. Each chapter is followed by an "Instruction" or lesson that leads us through the building blocks necessary to personal prosperity, encouraging us to start with a clean slate, eliminate any erroneous beliefs, establish our worth and so on. Each chapter is also followed by a daily meditation.
The lessons are invaluable, but they are enhanced by Reverend De Coff's own personal experiences and those of friends and acquaintances, that are sprinkled throughout. As Linda says, the book will be of most benefit to those going through change or looking for an upgrade, but even if you are perfectly satisfied with your personal prosperity, the book will force you to think, remember what got you to where you are and remind you to continue along that path.
It is the kind of book that can be kept close by to pick up from time to time as a refresher.
Divine Prosperity is a 5-star read.
AMAZON CUSTOMER
5.0 out of 5 stars Rev. Dr. Linda De Coff is a master …
Rev. Dr. Linda De Coff is a master thinker and the highest evolved consciousness. She offers much wisdom and insight and the principles of universal truth, written in a way that will be clear to understand and incorporate into your life. A must read.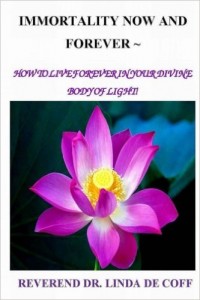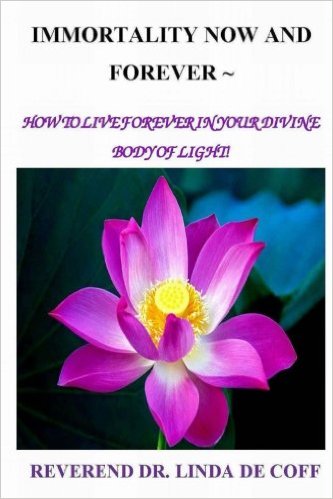 IMMORTALITY NOW AND FOREVER ~ How To Live Forever In Your Divine Body of Light!
~
Click Here for Complete Description and Free Preview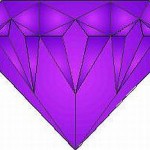 (See Reviews Below)
RICHARD HARVEY/Author "Your Sacred Self!" ~ On IMMORTALITY NOW & FOREVER 
5.0 out of 5 stars This is a book to be read not once or twice… but to have near you to reflect Divine grace …
Format:  Kindle Edition
The author, Reverend Dr. Linda De Coff, of this transcendent book, Immortality Now and Forever, is eminently placed to impart knowledge of the Divine realms and their relationship to our human experience of flux and change. She states the case that in this present moment Heaven is on Earth and through her clear and passionate prose, laced with transcendental exercises, inspiring stories, affirmations, meditations, and prayers, she speaks to us of the Timeless Truth that God, the Divine, is truly ubiquitous and inevitable. Our Higher Mind, she points out compellingly, is the Divine Nature. Death is a fallacy, a product of delusion and we are free to live our lives in self-renewal, perpetual change and creativity, and radiate Divine Light.
Recently I gave a spontaneous talk on the future of spirituality in the modern world. My method or approach to talks is to simply get out of the way and allow the Divine; it is an exercise in surrender and you become as a listener to your own utterances. To my surprise I spoke of the future time in which human beings evolve into light bodies not only emanating light but being light pure and simply Divine Bodies of Light and Consciousness. As I read De Coff's book I realized that what she is saying here in Immortality Now and Forever is a development, an exposition of that theme. Truly we are one and spiritual teachers are connected to the same source!
De Coff's emphasis on steady practice is sound and timely and practical as she offers an abundance of exercises for the aspirant and reveals the secrets of the spiritual path as one can only do who offers authentic wisdom and illumination. Her knowing is surely from her own direct experience as she exemplifies over and over again. Accessing that which is beyond mind, indescribable and unsayable, she teaches how to negotiate your way through the seduction of emotional states and heal past trauma.
De Coff goes thoroughly into the perennial issue and blessed issues of the Divine realms. Among them, forgiveness, reality, illness and healing, infinity, miracles and abundance. What she states is surely incontrovertibly right: when we are One with God all is well. An impassioned guide firmly located in the locus of truth, De Coff guides the reader out of fear and confusion to a vision of a marvelous destiny, as she exhorts us to: "Try to realize that every one of us comprises the one body ~ God's body, the Divine Manifestation. A Universal Body Perfect of the One Perfect One."
There are too many gems in this book to pick out a quote or two and do it any justice, but let me refer you to the following timely and perhaps urgent encouragement: "Yes ~ the time has come where, under Divine Grace, it has become possible for every son and daughter of the Most High to live and directly implement the sublime power and the stellar attributes of risen life, activating the substance of God immediately and directly in our lives… To accelerate and transcend, eliminate and cast off countless eons of the round of death, dying, disease, aging, failure; to at last cure those beliefs in separation, where we have constantly relinquished ourselves to the false gods of death and limitation…to rise free and anew, in every aspect of our lives. It is time now to rise in the universal, depthless body triumphant together – the glory of the Divine Plan made manifest."
This is a book to be read not once or twice… but to have near you to reflect Divine grace from and into you, to realize your Oneness with All in Consciousness.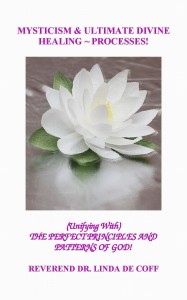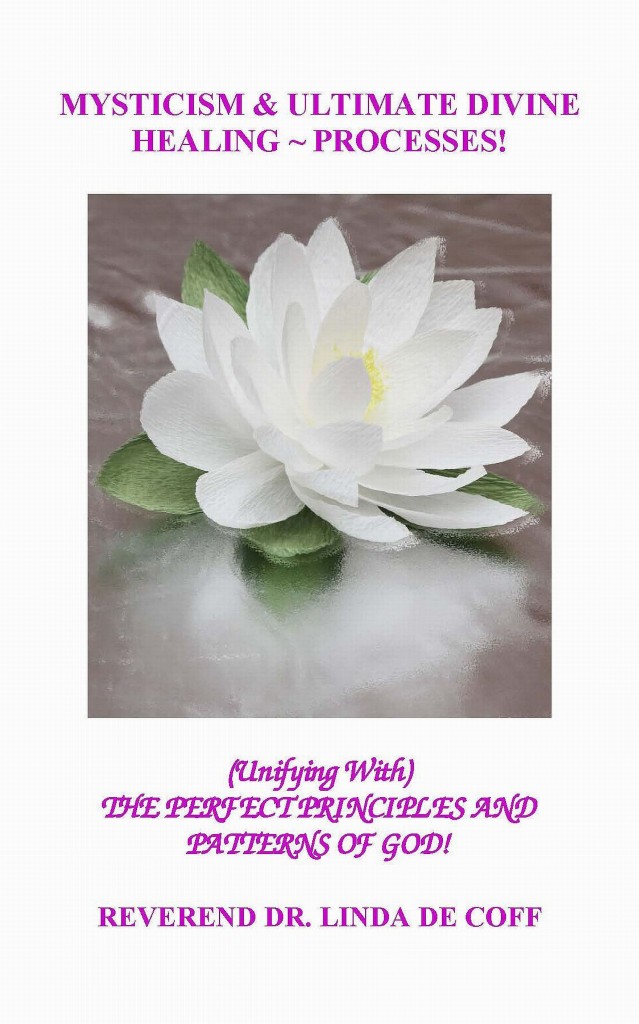 MYSTICISM & ULTIMATE DIVINE HEALING PROCESSES ~ The Perfect Principles and Patterns of God!
~
Click Here for Complete Description and Free Preview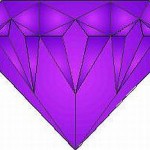 (See Reviews Below)
5.0 out of 5 stars A Very Clear & Practical Guide To Direct Your Life Experiences!
Format: Paperback Verified Purchase
I highly recommend this book for anyone who wants a clear way to understand how to move out of the automatic pilot thinking process of the ego and move into the Intelligence & Love we were created as. Lots of practical examples and process to assist all & anyone to realize their Divine pattern that leads to the Divine experience of the Truth we are. The book is not filled with complicated theories and far out dreams of enlightenment, but down to earth, everyday living examples that anyone can follow & benefit from.
5.0 out of 5 stars… field of metaphysics and healing in this work an amazing amount of wisdom developed from her extensive experiences in …
Rev Linda De Coff has contributed to the field of metaphysics and healing in this work an amazing amount of wisdom developed from her extensive experiences in life and ministry. She fills it with many relevant case examples that enable the reader to clarify complex concepts and align them with real life situations. And so, it serves as a guidebook to living life with joy, richness, understanding, gratitude and empowerment. Which highlights the importance of mindfulness of our thoughts and feelings that impact on our reactions, decisions, life dimensions and overall health and well-being.
Her writing style is so easy to read. It's like having a conversation with the author herself.
Such a wonderful model for me in my own communications, powerful and helpful. Psychotherapist, Public Health Professional and Educator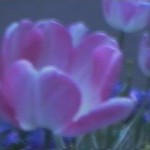 We greatly appreciate your interest to review any of the above books we have listed.  Your reviews mean so much to all who are seeking to raise consciousness and thus transform their worlds to reflect the Divine Patterns of Grace and Infinite Possibility that ever await each and every Son and Daughter of the Most High…if only we know this Truth in our Hearts and Minds…deep within our Souls Divine.
Your sharing of your own valued and personal experience in reading will help other seekers to better know what they can expect.
All Richest Blessings ~
Love Forever Free And Unbound ~
REVEREND DR. LINDA DE COFF
AND
NEW THOUGHT INTERNATIONAL LIBRARY