DEAR FRIENDS  and VISITORS TO OUR SITE ~
IT IS OUR PLEASURE TO ANNOUNCE THAT DR. LINDA'S BOOK IS NOW AVAILABLE ON AMAZON.COM & ALL FAMILIAR SITES.  "Build a Love that lasts Forever." 
In a most poignant moment of deepest realization ~ Dolly Parton's mother avows to her beloved husband, "I want to be with you eternally, not just for this life alone, but forever!"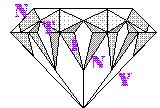 Tears and a breathtaking silence filled the air, and from that point on, all things changed. (A Coat of Many Colors, NBC Christmas Special ) 
Find out how to achieve this exalted state in and throughout your most cherished relationships, and make your most heart-felt dreams a living reality.
VISIT ~ AT: 
Discover the exquisite qualities that exist in relationships, exalted in the Highest Principles of Divine Love!  
Learn how to make these treasured values your very own!
Bless all your relationships now and those to come… and forever more!

Below, please find further descriptions, your free Preview and  5-Star Reviews.

 
REVOLUTIONARY ROMANCE! " ***** A REVIEW BY J.L/Producer/Director/Writer/Stage & Screen
"Divine Romance & Perfect Partnership ~The Immortal Principles and Powers of Divine Love," the next installment in Reverend Dr. Linda De Coff's fabulous Global Divine Consciousness Series, proves once and for all Love is not an accident or a privilege, but the destiny of each and every one of us!
This book is a master work of wisdom and understanding. Dr. Linda has helped us immensely in clearing the way for a Perfect Partner . By internalizing Dr. Linda's ideas and approach, we can realize our dreams~ not only in partnership, but all other areas of life: the perfect home, perfect job, perfect life's work.
The principles are simple, but results are revolutionary!
We are motivated on our personal path of integrity and success ~ to change our lives in numerous ways. Reading her book fosters illumination; it's a blueprint and guide, with exercises, to assist you in reaching your Life's Goals. Love unconditionally and ultimately achieve all you hold in mind. 
The author speaks sublime truth when she says the closer we get to ourselves, the closer we get to our true love. And of course this realignment of our conscience takes place within, something that we have control over.
If we do the work and keep centered, Dr. Linda assures us that Principle will majestically bear fruit. It is the Law of the Universe.
This tract adds immeasurably to Dr. Linda's great body of work and I highly recommend to all. It's a pathfinder to get where we're going, to have more of what we want. . . to transform the blahs into a luminous Reality! ~ J.L., Producer/Director/Writer/Stage & Screen
AMAZON REVIEW BY DEBORAH BEAUVAIS, PRODUCER/THE LOVE BY INTUITION SHOW/DREAMVISIONS7RADIO AT WMEX RADIO BOSTON.  FIVE *****
Do we have more than one Soul Mate? Are Souls threaded together? The beautifully written Divine Romance & Perfect Partnership by author Reverend Dr. Linda De Coff answers these questions and more. Humanity yearns for love. The path to a rich lasting relationship is learning to love oneself. As Dr Linda shares, loving the self attracts a deeper kind of love, which resonates with another soul on the same level. When the two souls come together it makes for an exciting relationship into the journey of evolution. Which do we choose, a frivolous relationship or one based in benevolent love?
Deborah Beauvais
MIDWEST BOOK REVIEWS ***** ON DIVINE ROMANCE!  
Inspired and Inspiring

, "Divine Romance & Perfect Partnership: The Immortal Principles and Powers of Divine Love!" is very highly recommended reading, especially for those seeking to create, maintain, and enjoy relationships that will last a lifetime — and beyond! It should be noted for personal reading lists that "Divine Romance & Perfect Partnership" is also available in a Kindle edition ($9.99).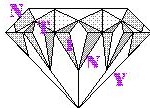 ABOUT DIVINE ROMANCE
 In this stunning book on the incomparable powers and joys of

Divine Romance & Perfect Partnership

, Dr. Linda offers enlightening keys on

how to prepare for, recognize and attract your perfect eternal mate ~ and how to sustain your relationship forever.
Whether individual or couple, learn not only how to constantly renew all your relationships spanning the wide circumference of your life, but to lift all in your world to the Highest level, and experience greater fulfillment, bliss and attainment than ever before.
Ultimate Laws of Attraction, Affinity and the All Powers of Unconditional Love

are revealed, for ~ there is no doubt that the greatest mantra for Divine Relationship exists in the Timeless and Immortal words ~ 

"Where there are two or more gathered in my name, there I am!"
Discover the Sublime Qualities that Exist and Flow between Partners, whose Relationships are Exalted, Harmonized and Perfected in Divine Purpose and Love. Learn how to make these treasured values your very own.
Reverend Linda speaks about the

Dynamics of Immortal Love

and the Heavenly Possibilities always available to us in all our relationships, spanning all areas of life ~ With Particular Emphasis on Soul-Mates and the Exquisite Cosmic Potential of

Right Now Fulfillment

in Your Life ! 
As we release old, worn-out forms and move into a Spiritualization of Relationships of All Kinds, we are newly empowered and blessed. Rejoice in the

Perfect Principles of Divine Love in you

, and the exalted power of Love to manifest all that is perfect and right for your Eternal Advancement into the many Mansions of Splendor, right here on earth and Forever.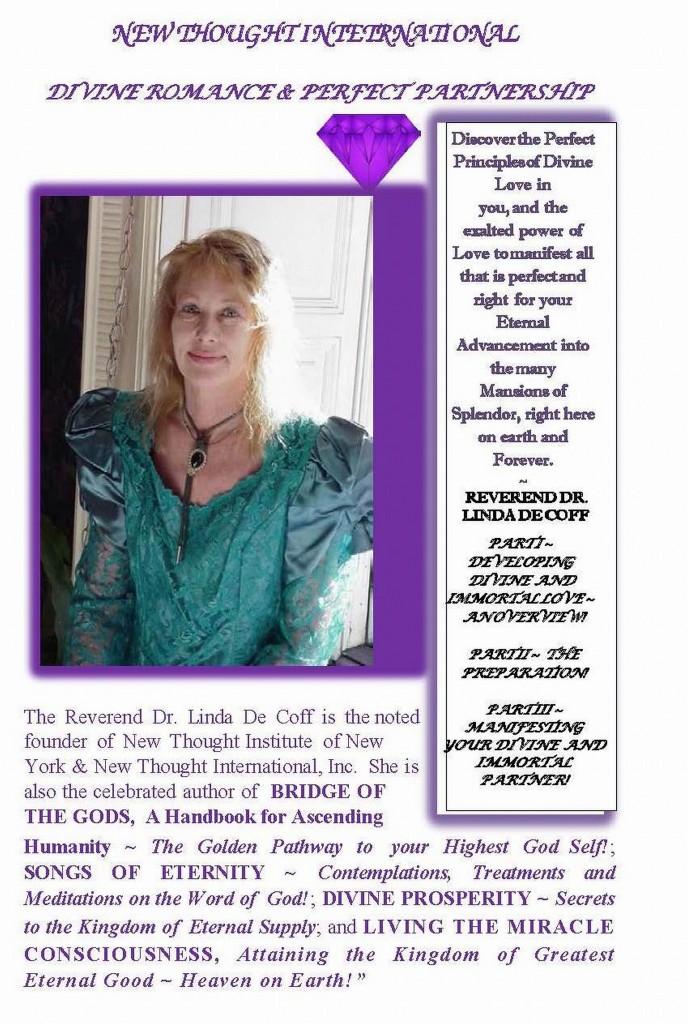 PART I ~ DEVELOPING DIVINE AND IMMORTAL LOVE ~ AN OVERVIEW!
PART II ~ THE PREPARATION!
PART III ~ MANIFESTING YOUR DIVINE AND IMMORTAL PARTNER!
A MEDITATION FOR YOU!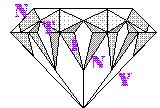 "PREPARING FOR THE LOVE OF YOUR LIFE"
"The Soul's Rapture ~ One throughout Eternity."
Beloved:
            The whole Universe is engaged in a Cosmic Romance.  You and your beloved have existed throughout eternity in the Heart of God,

for God ever creates perfect compliments in all.  Like travelers venturing

forth throughout space and time to acquire experience ~ your Divine partner and you have followed your individual paths… yet, ever remained in constant awareness and Soul connection to each other.
            As your Souls evolve, now, to embrace 

Higher Stages of Love

 ~ you become mighty magnets, ready to embrace one another in strength and power, once again; and to share the bounty of all the good, you have become, throughout your many sojourns.  The Universe rejoices.  Now, as you prepare to receive, you are brought together in perfect harmony, Higher Purpose and bliss.
            God's Love is richly fulfilled through you.
MEDITATION

"PREPARING FOR THE LOVE OF YOUR LIFE"
I AM THAT I AM!
~
AND RIGHT NOW I DECLARE ~
I AM ONE WITH ALL THE GOOD
AND THE LOVE THAT IS!
~
DIVINE MIND NOW SHOWS ME THE WAY
TO MY PERFECT PARTNER OF PEACE, LOVE, JOY,
FULFILLMENT and HAPPINESS…
BEYOND ALL MEASURE.
~
WE ARE ONE ALREADY I KNOW…
IN BODY, MIND, AND BEING.
DEEP CALLED UNTO DEEP…
~
THROUGHOUT AND THROUGH
THE MAGNETIC CHAMBERS OF ETERNITY ~
 RESPLENDENT AND GLORIOUS… LOVE SHOWN BRIGHT.
~
IN THE PERFECT MAGNETISM OF ABIDING FAITH,
WE ARE DRAWN TOGETHER NOW.
~
WITHIN THE GOLDEN STREAMS
OF INFINITE TIME AND SPACE.
NOW…WE ARE MET!
NOW…UNITED UNDER LOVE'S PERFECTING EMBRACE.
 ~
OH, OUR TIMING IS EVER SO PERFECT AND DIVINE!
 ~
THANK YOU GOD ~
THOU DOST EVER SUPPLY ME IN ALL.
THOU ART THE PERFECT PRESENCE OF MY BELOVED ~
BROUGHT TO ME NOW.
~
I ACCEPT!  I REJOICE!
WE ARE ONE… IN ALL THINGS PERFECTLY BALANCED…
IN ALL THINGS
THE PERFECT FULFILLMENT OF EACH OTHER.
~
I AM THE LIGHT OF FABULOUS LOVE…
BROUGHT FORTH!
~ AND SO IT IS!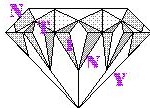 VISIT DR. LINDA'S WEBSITE ARCHIVES FOR ONGOING HIGHER CONSCIOUSNESS ARTICLES & SPECIAL VIDEO SERIES! https://revdrlindadecoff.com 
Discover the profound Alchemy and healing that occurs at each consciousness level, as you align your mind with the Mind of God!
Here you will find much information and a host of articles and lesson series to help you to advance to the next level you wish to achieve.  If you have missed any previous monthly article of the past year, simply go to our archives section to catch up.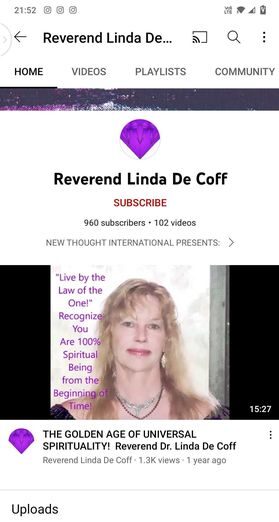 Visit Dr. Linda's You Tube Channel where New Thought International Library is presenting an on-going rich array of offerings of Dr. Linda's works on "ATTAINING DIVINE CONSCIOUSNESS", including full length inspirational talks, guided meditation videos, book trailers, radio shows where Dr. Linda was the featured guest of the day and more.  Explore specific Playlists  featuring Dr. Linda speaking on various Higher Consciousness Themes.  Subscribe for free to keep up to date.
To view all of Dr. Linda's 10 book series on ATTAINING DIVINE CONSCIOUSNESS, go to https://revdrlindadecoff.com/?p=3685.  (Here you will find links to full descriptions & previews of each book, as well as some wonderful reviews already received on each.)
~
*Visit all of Dr. Linda's currently available books,

 

on Amazon ~  
Join Dr. Linda on her Pages:
 Dr. Linda is also on Linked In. All are welcome to join her group, "The Next Step in Spiritual Advancement" ~


1888PressRelease