DEAR READER,  It is our pleasure to announce the publication of Dr. Linda's book on DIVINE PROSPERITY.
This wonderful in-depth book on the Highest Principles and Laws of Eternal Abundance Awareness includes extensive introductions on each Stage of Consciousness Ascension, along with deeply empowering  consciousness raising exercises and daily meditations, to assist you in incorporating the vital information contained.
With each step ~ such a transformation of consciousness is achieved that outer demonstrations in your world, reflective of your Higher State of Being, automatically occur.
"

The Unexpected Income Program

" portion for each of the Twelve Steps provides all that you need to live at the Summit of Divine Thought eternally…and to get to the place, where you are so "One with all the Abundance that is" ~ that you are always demonstrating immediately the substance of everything you require.

 Expand your awareness,  and rise  to the summit of all bounty… Enjoy the Heavenly Mantras of  each Lesson's Theme, and the transformational exercises, allowing for your immediate transcendence of every troubling issue, along with the exquisite Daily Meditations for activating your Divine Consciousness within.
Format: Paperback
Author Reverend Linda De Coff states at the beginning of the book, "If you are about to go into enormous change, or have just created enormous change, or are very much seeking to manifest an upgrade, over the past period of experience, this book is for you." She couldn't have described the book any better.
Divine Prosperity is comprised of twelve stages, each of which builds on the previous stage or stages. Each chapter is followed by an "Instruction" or lesson that leads us through the building blocks necessary to personal prosperity, encouraging us to start with a clean slate, eliminate any erroneous beliefs, establish our worth and so on. Each chapter is also followed by a daily meditation. The lessons are invaluable, but they are enhanced by Reverend De Coff's own personal experiences and those of friends and acquaintances, that are sprinkled throughout.
As Linda says, the book will be of most benefit to those going through change or looking for an upgrade, but even if you are perfectly satisfied with your personal prosperity, the book will force you to think, remember what got you to where you are and remind you to continue along that path.
It is the kind of book that can be kept close by to pick up from time to time as a refresher.
Divine Prosperity is a 5-star read!

*Visit all of Dr. Linda's currently available books, including  DIVINE ROMANCE & PERFECT PARTNERSHIP  on Amazon.com ~  
VISIT DR. LINDA'S WEBSITE ARCHIVES FOR ONGOING HIGHER CONSCIOUSNESS ARTICLES & SPECIAL VIDEO SERIES! https://revdrlindadecoff.com 
Discover the profound Alchemy and healing that occurs at each consciousness level, as you align your mind with the Mind of God!
Here you will find much information and a host of articles and lesson series to help you to advance to the next level you wish to achieve.  If you have missed any previous monthly article of the past year, simply go to our archives section to catch up.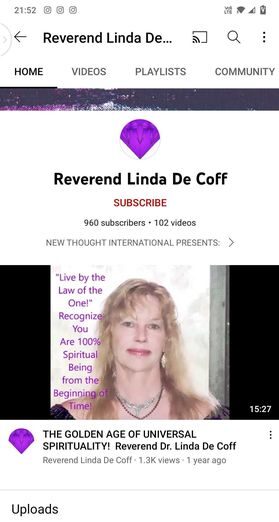 Visit Dr. Linda's You Tube Channel where New Thought International Library is presenting an on-going rich array of offerings of Dr. Linda's works on "ATTAINING DIVINE CONSCIOUSNESS", including full length inspirational talks, guided meditation videos, book trailers, radio shows where Dr. Linda was the featured guest of the day and more.  Explore specific Playlists  featuring Dr. Linda speaking on various Higher Consciousness Themes.  Subscribe for free to keep up to date.
To view all of Dr. Linda's 10 book series on ATTAINING DIVINE CONSCIOUSNESS, go to https://revdrlindadecoff.com/?p=3685.  (Here you will find links to full descriptions & previews of each book, as well as some wonderful reviews already received on each.)
~
*Visit all of Dr. Linda's currently available books, including  DIVINE ROMANCE & PERFECT PARTNERSHIP  on Amazon ~
Join Dr. Linda on her Pages:
Dr. Linda is also on Linked In. All are welcome to join her group, "The Next Step in Spiritual Advancement" ~

Dr. Linda was honored to be a Finalist  in the annual Edition of 50 Great Writers You Should Be Reading, in recognition of her stunning work ~ BRIDGE OF THE GODS, A Handbook for Ascending Humanity ~ The Golden Pathway to your Highest God-Self!…on the next stage in spiritual evolution for the  most beneficent advancement of all humanity!
It has been said of Dr. Linda's Books:
"A Master-Work in Metaphysics!" ~ Jeanne (Amazon.com)
"Just Reading one chapter can raise one's vibration for an entire day!" ~ Deborah Beauvais, producer /Dreamvisions7radio.com/NBC Radio Boston.
"You cannot be the same person on the other side of these reads!" ~ Michael Ben Zehabe on Songs of Eternity/Syndicated Columnist & Author/"Unanswered Questions in the Sunday News!"  http://www.authorsden.com/visit/viewwork.asp?id=59977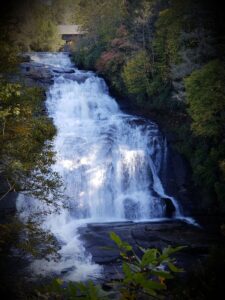 WISHING YOU COMPLETE REALIZATION OF THE ABUNDANT UNIVERSE YOU LIVE IN!  MAY YOU ALWAYS BE SO ONE IN HEART AND MIND THAT YOU COULD BE IN THE MIDDLE OF A DESERT WITH NO NOURISHMENT IN SITE AND BE ABLE TO MANIFEST AT WILL THE DIVINE OASIS SUBSTANCE OF RICHEST FLOWING WATER, BECAUSE YOUR FAITH AND KNOWING IS SO GREAT!!!
IN ALLL TRUTH, LOVE & LIGHT ~
REVEREND DR. LINDA DE COFF
AND
NEW THOUGHT INTERRNAITONAL LIBRARY
---
One Response for " DIVINE PROSPERITY ~ Twelve Steps to Your Perfect Consciousness of Infinite & Eternal Supply! New Book by Reverend Dr. Linda De Coff now available on Amazon.com "
Jean February 23rd, 2016 at 6:41 pm   Edit Comment 1

I'm a huge fan of Rev. Dr. Linda DeCoff and just finished her last incredible work on Divine Romance & Perfect Partnership. What an easy-to-read, beautiful, transofrming work! Now looking forward to her latest Book on Prosperity, finally released!

---